Back
Art & Design Technology
Challenge : Develop the skills, knowledge of materials and appreciation of different artists we can then give them the freedom to explore their own ideas. Children can produce art confidently in the knowledge that there is no right or wrong and that making mistakes is an important part of the creative process.
Inspire : Fire their imagination as a fundamental means of personal expression and develop a love of the creative arts.
Prepare : Create a unique creative handwriting, a resilient attitude and a confidence in both art and DT which they can carry through to secondary school and beyond.
For further information, please see progression map at the bottom of this page.

Subject Leader: Mrs Rees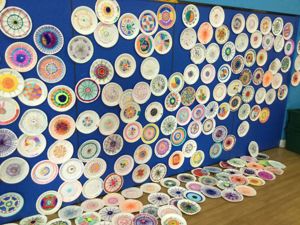 Auriol "Dot" artwork created by Auriol pupils and staff - Arts Week 2019